Spookie durft alles! - Graduation picture book
Spookie durft alles! or Spookie be brave! is a picture book about conquering your fears and experiencing growth, filled with colorful animals as told through the tale of an anxious cat called Spookie. I wrote and illustrated the picturebook on my own with the help of many picture book makers. 
Story: Spookie the cat enjoys her safe life within the comfort of home with her owner Bianca and Tommie the cat. One day her life is disrupted by the disappearance of her precious food bowl. Conquering her fear of the outdoors, she goes on a journey to retrieve it. She first asks the smallest animals she meets, before eventually asking Wolf to help her figure it out. As she grows braver she realizes that she is maybe even braver than Wolf! And as it turns out the thief has been close-by all along. As Wolf is scared of the thief too, Spookie understands that fear is something we all deal with. It's okay to be afraid. Conquering fears helps us grow. Spookie persuades Tommie, who stayed at home, to join her in a new adventure in the great outdoors. Spookie's bravery is enough to convince Tommie that he too can be fearless!
A full PDF-file of the picturebook including the text is available upon request. Let me know by using my contact form.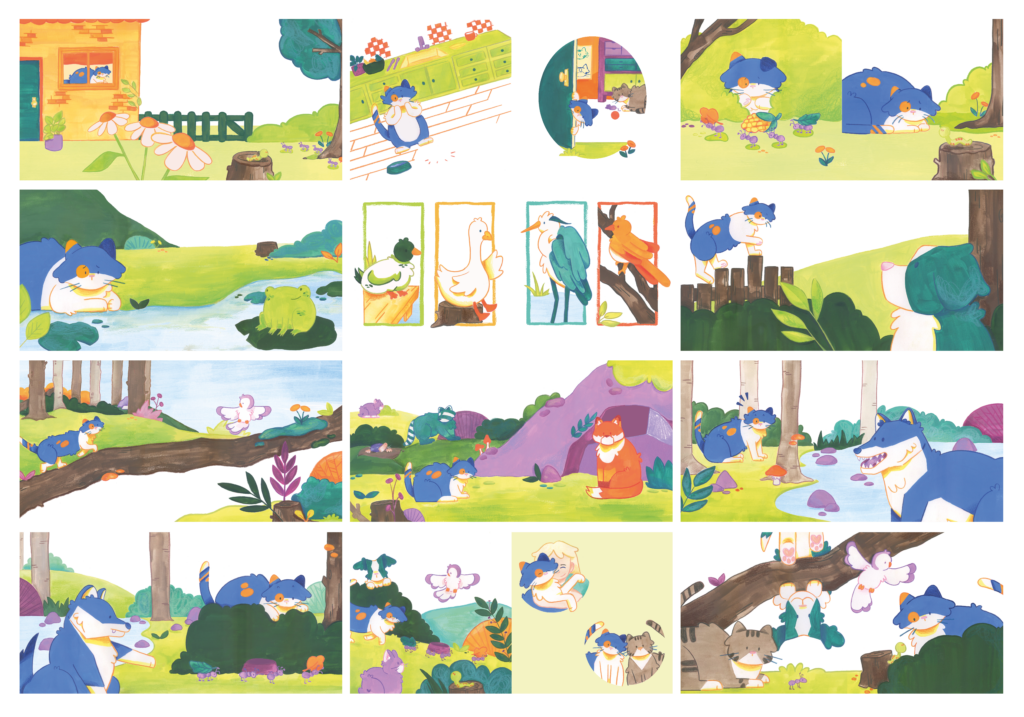 Pixi award - De vier winstreken - contest entry 2023
Picture This! - Lemniscaat - contest Entry 2023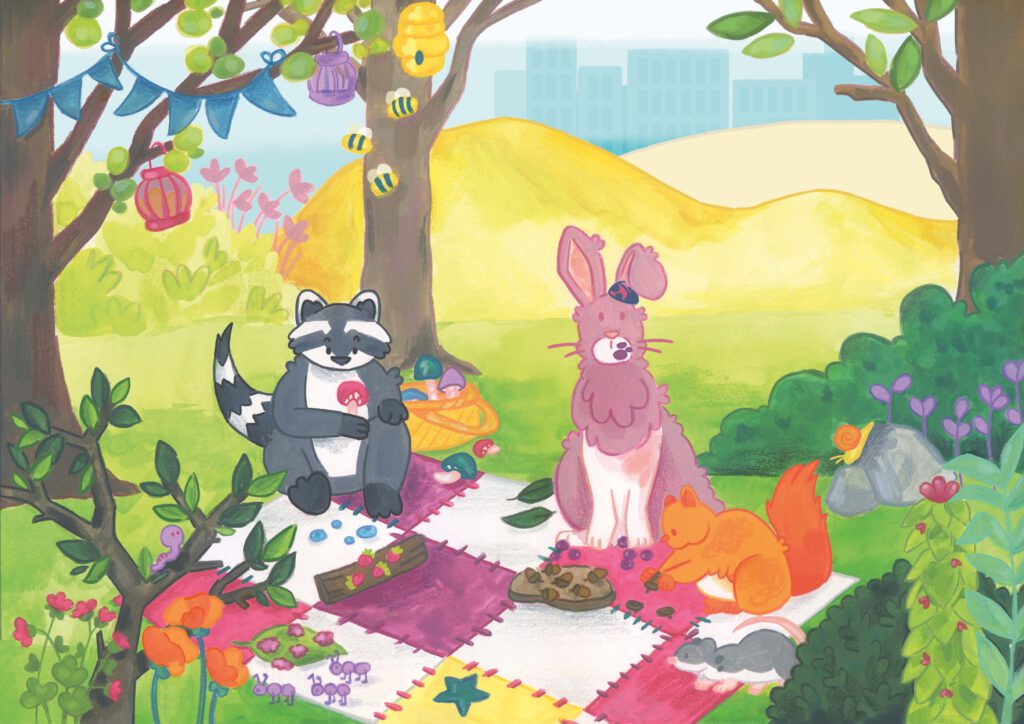 Finn is shy and spends his days hunting the forgotten treasures of the city. Talking to strangers is too scary. The cellar underneath a restaurant, is where he keeps his treasures. Finn always takes his beloved backpack with him. And always coming along unnoticed by Finn, is Mouse. Mouse wonders if one day Finn will see him and they will become friends.
One day, Finn gets fed up with loneliness. He's angry and doesn't see the value in his treasures anymore. He starts throwing his stuff in the trash bin. Mouse decides to stop Finn from throwing away his beloved backpack. He tells Finn about the world outside the city. Where Finn and Mouse can make friends, eat fresh food and find new treasures. Finn conquers his fears and Mouse joins to leave the city. There he meets lots of animals. They become friends, and Finn realizes that friendship is the only treasure worth collecting.
Hide and seek in the forest & Under the sea!
Applied illustration work
PRAXIS BULLETIN - MALMBERG PUBLISHING​
During my internship with Lobke van Aar I was asked to illustrate two different covers for the Praxis Bulletin magazines. A monthly magazine for primary schools.  The illustration on the right has been created using traditional handmade textures in a combination with digital elements. The magazine is created for teachers and holds an informative function. Praxis Bulletin is published by Malmberg publishers in the Netherlands. These illustrations have been made for educational purposes and have not been commissioned by Malmberg publishers.
BOOK COVER & ILLUSTRATIONS - PLOEGSMA PUBLISHING​
During my two month internship with Ploegsma publishers I had the opportunity to make my own version of the cover for 'Billy Extra Plankgas.' I also got to illustrate 15 illustrations for inside. I created my version of the characters based on the story written by Yorick Goldewijk. The fonts for the title and author have been designed by me. These illustrations have been made for educational purposes and have not been commissioned by Ploegsma.
christmas cards - december 2022